TIG welding thin aluminum?
Share
publisher

Sandy
Issue Time

2015-12-30
Summary
TIG welding thin aluminum? Don't ball your tungsten - sharpen it.
TIG welding thin aluminum? Don't ball your tungsten - sharpen it. To advance everyone's knowledge, this aluminations answers questions on welding thin material, describes the operation and benefits of AC balance control and discusses selecting a TIG welder based on amperage requirements.
Using AC to TIG weld aluminum evolved from the need to remove the oxide layer that forms on its surface. The electrode positive (EP) portion of the AC cycle, in which electricity flows from the work to the tungsten, "blasts" off surface oxides. The electrode negative (EN) portion of the cycle does the actual welding, directing heat from the tungsten into the metal.
When engineers invented the Squarewave AC output, they also discovered that an unbalanced AC wave form works best for many applications. That's why lighterduty machines, like the Syncrowave 180 SD, feature a fixed balance control set for more penetration (60% EN) than cleaning (40% EP), as shown in Fig. 1.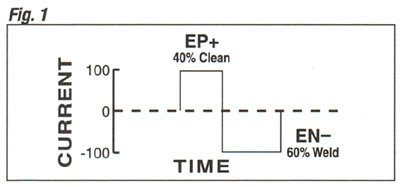 We also invented adjustable balance control. This feature permits tailoring the EN/EP ratio to match an application. For example, Miller's Syncrowave MIG-250 and Syncrowave MIG-350 LX let you adjust EN values from 45 to 68% (32 to 45% EP).
Greater amounts of EN create a deeper, narrower weld bead and better joint penetration. This helps when welding thick material, or it may permit faster travel speeds. Conversely, greater EP values remove more oxide and create a shallower, wider bead (see Fig. 2). On materials that have a heavy oxide layer or cast aluminum, increasing the cleaning action minimizes the chance of foreign particles becoming included, promoting a better weld.