How to Choose the Right Plasma Cutting Machine
Share
publisher

sandy
Issue Time

2016-08-17
There are several factors that fabricators or machine shops should consider when preparing to purchase a plasma cutting tool. These include cutting capacity, cut quality, reliability, duty cycle, ease of use, and operating cost. The first step is to figure out what type of plasma cutting you plan to do. Are you planning to cut by hand, or on a table? Some plasma cutting tools are capable of doing both, easily going from handheld to mechanized cutting and back again. A few systems include a CNC interface and internal voltage divider, providing even greater options for mechanized applications.

Once you know what type of plasma cutting you plan to do, then you should consider the thickness of the material you plan to cut. The general rule is to choose a system with a recommended cut capacity that matches the material thickness you plan to cut 80 percent of the time. For example, if you mainly plan to cut 0.5-in thick metal, and only occasionally cut metal that's a little thicker (say, 0.75-in. thick), then you can choose a 0.5-in system.


Cut quality is another important consideration. Not only does the quality of the cut affect the quality of your finished piece, that quality saves time in later stages of production. Ideally, you'll want to achieve a clean, smooth edge so you don't spend a lot of time on secondary work. In addition to clean cuts, better plasma cutting systems create a much narrower kerf (cut width), which means more precise cuts and less wasted metal.



Finally, you should consider operating cost. Cut quality, cut speed, and performance play a role here but so does plasma consumable cost. Plasma consumable life can vary significantly from one brand of plasma cutting system to another. Longer plasma consumable life is important as it reduces downtime for change-outs and lowers the cost you pay for new plasma consumables. The best brands use patented technology to extend plasma consumable life, while also delivering high-quality cuts.
Here i want to recommend you guys TOPWELL® CUT-100H.
Professional-grade plasma cutting machine for handcutting&CNC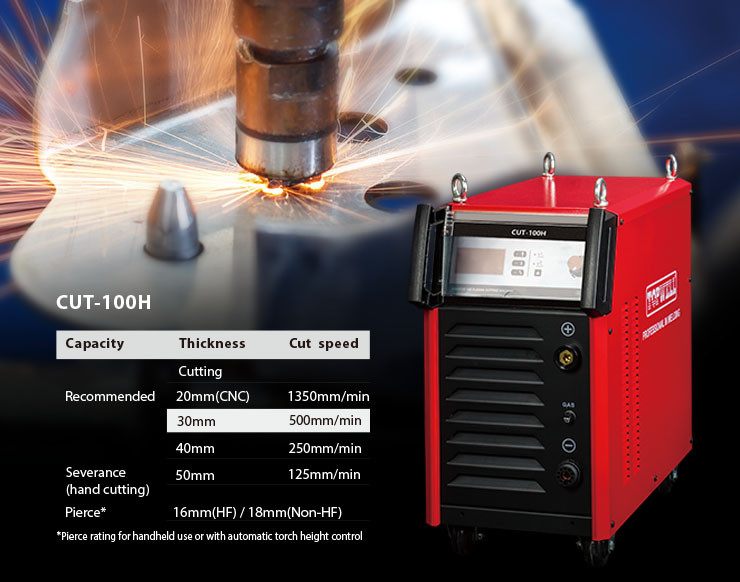 1.Quality cutting speed 1350mm/min
2.Vertical surface no more than 3°
3.Upgrated firmware to longer plasma consumable life
4.The cutting capacity is close to Hypertherm