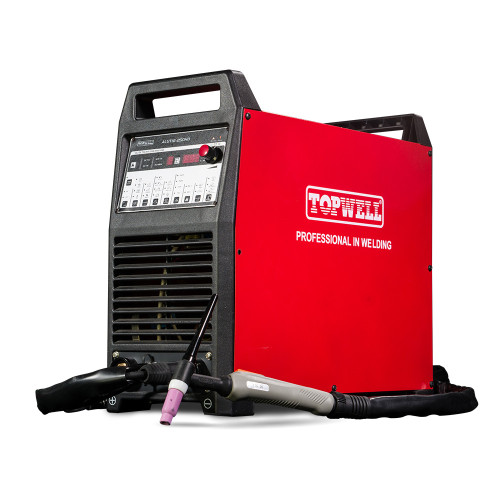 Welding Equipment ALUTIG-250HD AC/DC TIG Welder
Item specifics
Input Voltage

1PH ~ 230V ±15%/3PH ~ 380V ±15%
Rated Output(40℃) 60%

250A/20V
Features

AC TIG, MIX TIG, DC TIG
Description
Total Solution of TIG welding
AC/DC TIG & MIX TIG
ALUTIG-250HD
DC TIG - features the Pulse function, it precisely controls the welding arc, heat input and penetratoin.
AC TIG - with 4 kinds of AC waveshapes(square wave and sin wave), and 3 kinds of AC waveshape controls(Balance, Frequency and Amplitude).
MIX TIG- has both AC current and DC current in one duty cycle, better arc concentration and deeper penetration.
Reliable and Powerful Design - 250A@60% duty cycle, capable for workshop jobs.

The Pulsed TIG function switches the amperage from a high (peak) to a low (background) at a set rate (PPS). Pulsing can reduce heat input by lowering the average amperage, increasing control of the weld puddle, penetration and distortion.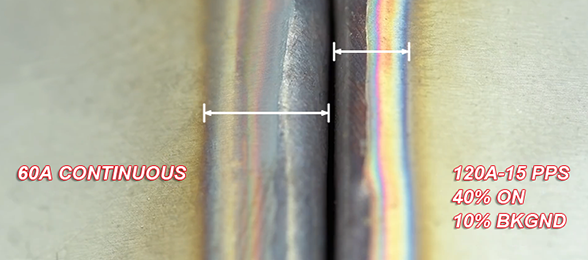 Control Panel Description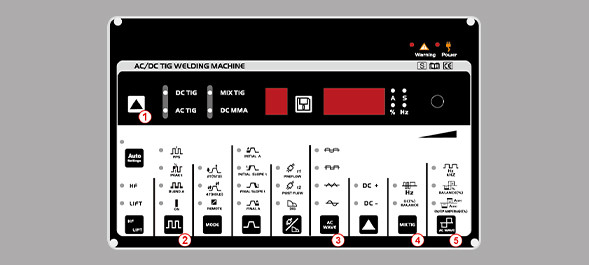 1. Welding Process
DC TIG/AC TIG/MIX TIG/DC MMA
2. Pulser Control
3. AC Waveshape Types
Advanced Squarewave
Sin Wave
4. MIX TIG
5. AC Waveshape
AC Frequency Range 20Hz~200Hz
AC Clean Width (AC Balance) +40~-40
AC Clean Ratio (ACBias) % +30~-50
Controls the width of the arc cone. Increasing the AC Frequency provides a more focused arc with increased directional control.
Note: Decreasing the AC Frequency softens the arc and broadens the weld puddle for a wider weld bead.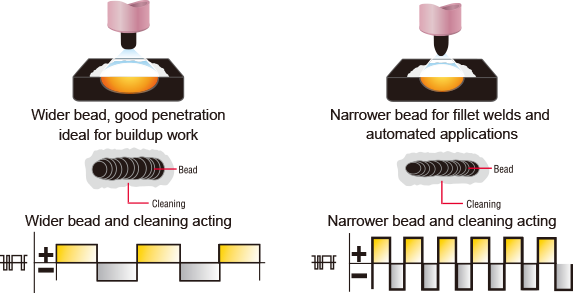 Controls arc cleaning action. Adjusting the % EN of the AC wave controls the width of the etching zone surrounding the weld.
Note: Set the AC Balance control for adequate arc cleaning action at the sides and in front of the weld puddle. AC Balance should be fine tuned according to how heavy or thick the oxides are.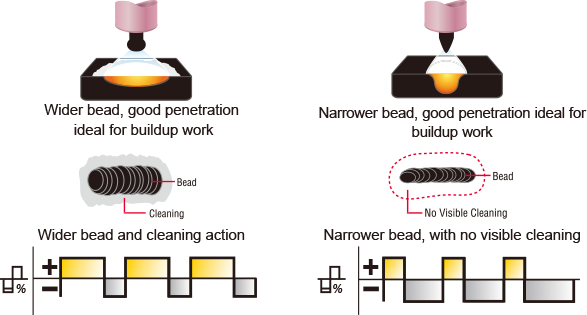 Adjusts the ratio of EN to EP amperage to precisely control heat input to the work and the electrode.
Note: EN amperage controls the level of penetration, while EP amperage dramatically effects the arc cleaning action along with the AC Balance control.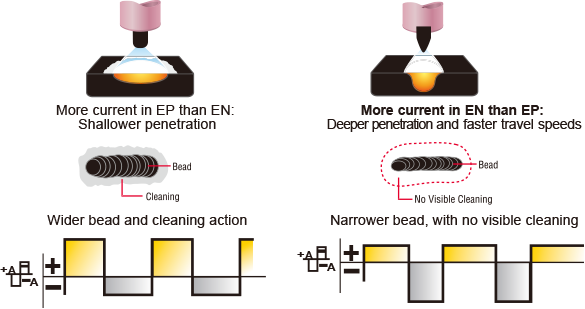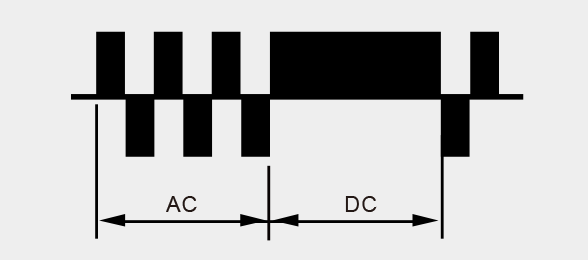 MIX TIG is TOPWELL's unique technology, it contains AC current and DC current in one duty cycle.That keeps the advantages and reduces disadvantages from each other. Using the MIX TIG technology gets an excellent arc concentration and can be carried out the excellent welding performance, especially for thick plates.
· Nice weld seam, Excellent arc concentration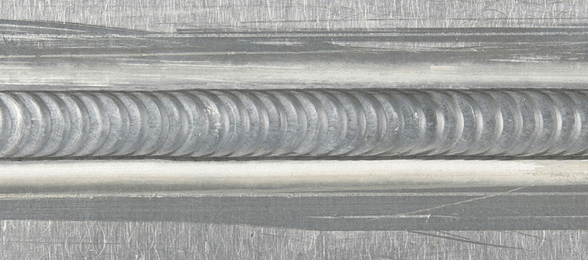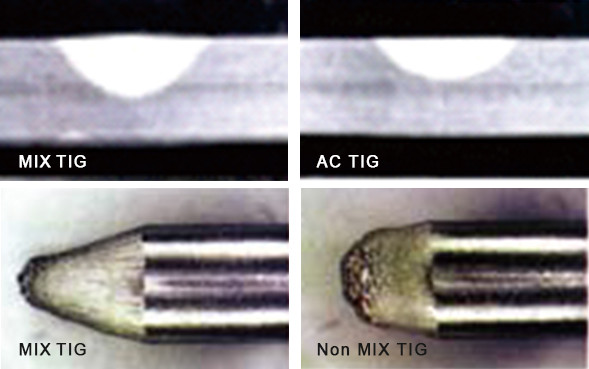 · Deeper penetration
· Substantially reduce the tungsten consumption
Product Name

ALUTIG-250HD

Machines Processes

Stick (SMAW)

TIG (GTAW)

Pulsed TIG (GTAW-P)
Product Weights & Dimensions

| | |
| --- | --- |
| Dimensions(L*W*H) | 560x230x480mm |
| Net Weight | 23kg |
Input Voltage

1PH ~ 230V ±15%/3PH ~ 380V ±15%

Input Power

Output Range

TIG: 5A/10.2V~250A/20V

MMA: 20A/20.8V~200A/28V

Rated Output(40℃) 60%

TIG: 250A/20V

MMA: 200A/28V

Polarity

AC/DC