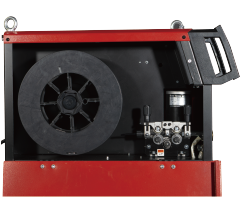 PROMIG-360SYN DPulse Synergy High Speed Pulse MIG Welder
Item specifics
Input Voltage

3PH ~ 400V ±15%
Rated Output(40℃) 60%

320A/30V
Features

High Speed Pulse, High Speed Spot
Wire Feeder

4-Rollers
Description
Synergy, High Speed Pulse MIG

PROMIG-360SYN DPulse

(HSP) High Speed Pulse MIG
- Improve the Welding Efficiency Up-to 48%.
Pulse MIG Process - Welds Mild steel, Stainless Steel, 4XXX and 5XXX series aluminum for superior quality welding.
Double Pulse MIG Process - Delivers a staked dime appearance when welding mild steel and aluminum.
Powerful output - Maintains a stable, smooth arc for spay arc welding, especially for 1.2mm M.S. in Pulse and Double Pulse process.
Synergic Control - Set weld procedures with one control.
Professional 4-Rollers Drive System - Allows for constant wire feed speed and consistent welds.
HSP—High Speed Pulse Technology

Specifically designed for demanding workshop use, the deposition rate can increase 25~30% for various materials, whether used in manufacturing thick materials or sheet metal.
The High Speed Pulse (HSP) process enables you to save time, money, and energy compared to traditional pulse welding. This process is ready to raise pulse welding to a whole new level!
In general, One pulse melt one droplet, but we increase the submission of these droplets by TOPWELL's New High Speed pulse process.The transition will be faster, narrower HAZ zone and deeper penetration!
GET HIGHER WELDING STRENGTH

Deeper penetration, No Undercut defects, Higher strength.
HSP VERTICAL-UP WELDING PROCESS

The HSP optimised for fillet welds (FW) completed using PF welding (in vertical up position), can also be used to great benefit in other weld positions. For Topwell ProMIG Series, HSP is approx 70 % faster, an enormous progress for everyone welding a vertical seam. A whole new level!
No need to swing! No undercuts or other defects! The speed of PF welding by HSP is twice that of the traditional pulse welding.
No need to swing, You can easily get a cosmetically pleasing weld seam, with significantly lower and more controller heat input into the workpiece. It results in much lower distortion and less rework, very suitable for welding the thin Aluminum or S.S sheets.

By High-Speed Double Pulse process, the heat input of arc is alternating, effectively reducing the heat input of base metal. It reduces the occurrence of welding defects such as crack.
HSS—High Speed Spot Technology

Thanks to its powerful output, PROMIG-360SYN DPulse not only uses Pulse and Double Pulse for aluminum, but also for mild steel(up to 1.2mm wire). It allows M.S. wire transfer to welding puddle by spray-arc, which provides better control of the arc and significantly reduce spatters.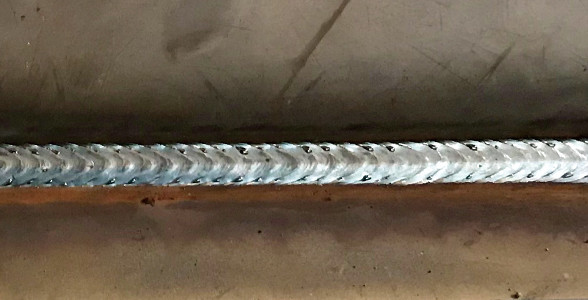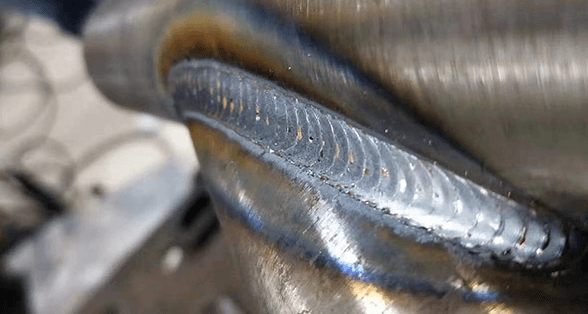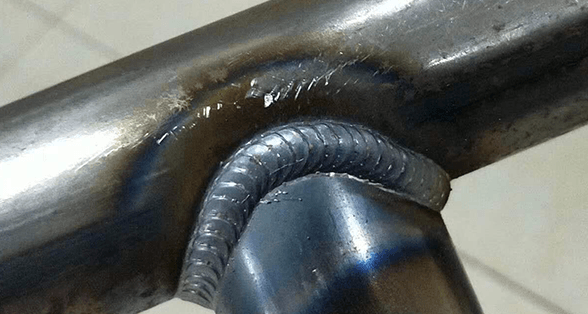 Comparing with the standard spot welding, High Speed Spot is an great improvement. It offers a faster travel speed and better welding performance, especially for thin (less than 2mm) pipes or frame/structure welding jobs, like the furnit
Product Name

ProMIG-360SYN DPulse

Machines Processes

Stick (SMAW)

Flux-Cored (FCAW)

MIG (GMAW)

Pulsed MIG (GMAW-P)

Double Pulsed MIG (GMAW-DP)

High Speed Pulsed MIG (GMAW-HSP)

Wire Feeder

4-Rollers
Product Weights & Dimensions

| | |
| --- | --- |
| Dimensions(L*W*H) | 790x250x650mm |
| Net Weight | 32kg |
Input Voltage

3PH ~ 400V ±15%

Input Power

19.35KVA

Output Range

MIG: 10A/14.5V ~360A/32V

MMA: 20A/20.8V~360A/34.4V

Rated Output(40℃) 100%

MIG: 320A/30V

MMA: 320A/32.8V

Polarity

DC